Hardcover: 272 Pages
Publisher: Skyscape (May 1, 2021)
A young love story about breaking painful legacies by the author of The Upside of Falling Down.
Convention doesn't carry much weight in Alder Creek. It doesn't in Amoris Westmore's family either. Daughter of a massage therapist and a pothead artist, inheritor of her grandmother's vinyl collection, and blissfully entering her senior year in high school, Amoris never wants to leave her progressive hometown. Why should she?
Everything changes when Jamison Rush moves in next door. Jamison was Amoris's first crush, and their last goodbye still stings. But Jamison stirs more than bittersweet memories. One of the few Black students in Alder Creek, Jamison sees Amoris's idyllic town through different eyes. He encourages Amoris to look a little closer, too. When Jamison discovers a racist mural at Alder Creek High, Amoris's worldview is turned upside down.
Now Amoris must decide where she stands and whom she stands by, threatening her love for the boy who stole her heart years ago. Maybe Alder Creek isn't the town Amoris thinks it is. She's certainly no longer the girl she used to be.

Purchase Links
About Rebekah Crane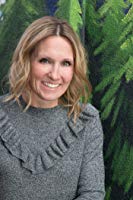 Rebekah Crane is the author of The Odds of Loving Grover Cleveland and other young-adult novels. She found a passion for this genre while studying secondary English education at Ohio University. She is a former high school English teacher, a yoga instructor, and the mother of two girls. After living and teaching in six different cities, Rebekah finally settled in the foothills of the Rocky Mountains to write novels and work on screenplays. She now spends her days tucked behind a laptop at seventy-five hundred feet, where the altitude only enhances the writing experience.
Connect with Rebekah
Review of Only the Pretty Lies
Review (4 Stars): This was a thought-provoking story that reminds us that not everyone sees the world the same way.  Amoris thought that her town was perfect and she had no reason to ever leave there until Jamison comes back into her life.  I enjoyed seeing her character grow during the course of this book and this shows that people can change once we see things in a different light.  Very enjoyable read.