Paperback: 320 Pages
Publisher: Thomas Nelson (October 20, 2020)
From the bestselling author of The Convenient Groom and A December Bride (now beloved Hallmark Original movies) comes the third and final novel in the Bluebell Inn series!
When a mysterious man turns up at Grace's family-run inn, it's instant attraction. But she's already got a lot on her plate: running the Bluebell Inn, getting Blue Ridge Outfitters off the ground, and coping with a childhood event she'd thought was long past.
A gunshot wound has resurrected the past for secret service agent Wyatt Jennings, and a mandatory leave of absence lands him in Bluebell, North Carolina. There he must try and come to grips with the crisis that altered his life forever.
Grace needs experience for her new outfitters business, so when Wyatt needs a mountain guide, she's more than happy to step up to the plate. As their journey progresses, Grace soon has an elusive Wyatt opening up, and Wyatt is unwittingly drawn to Grace's fresh outlook and sense of humor.
There's no doubt the two have formed a special bond, but will Wyatt's secrets bring Grace's world crashing down? Or will those secrets end up healing them both?

Purchase Links
About Denise Hunter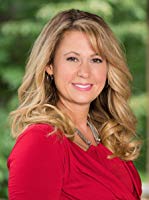 Denise Hunter is the internationally published bestselling author of more than 25 books, including A December Bride and The Convenient Groom, which have been adapted into original Hallmark Channel movies. She has won The Holt Medallion Award, The Reader's Choice Award, The Carol Award, The Foreword Book of the Year Award, and is a RITA finalist. When Denise isn't orchestrating love lives on the written page, she enjoys traveling with her family, drinking green tea, and playing drums. Denise makes her home in Indiana where she and her husband are rapidly approaching an empty nest.
Connect with Denise
Review of Autumn Skies
Review (4 Stars): Autumn Skies was a sweet, romantic story about two people trying to put the trauma of their past behind them.  Grace and her siblings run the Bluebell Inn after their parents died but are now ready to sell the Inn and move on with their lives.  Grace has an outdoor activities business that she is trying to get off the ground when she meets the handsome, Wyatt, who is looking to spend time at the Bluebell Inn.  The more time that Grace and Wyatt spend with one another, they realize that they have more in common then they thought and develop feelings that become too hard to ignore.
I really enjoyed this story and I'm glad that Grace found someone that would always make sure that she stayed safe.  Grace and Wyatt seemed perfect for one another after everything that they had been through and Wyatt needed someone that would make him come out of his shell.  This is the third book in the series but I was able to follow along easily and now I want to read Molly and Levi's story.  Great story.